Our Story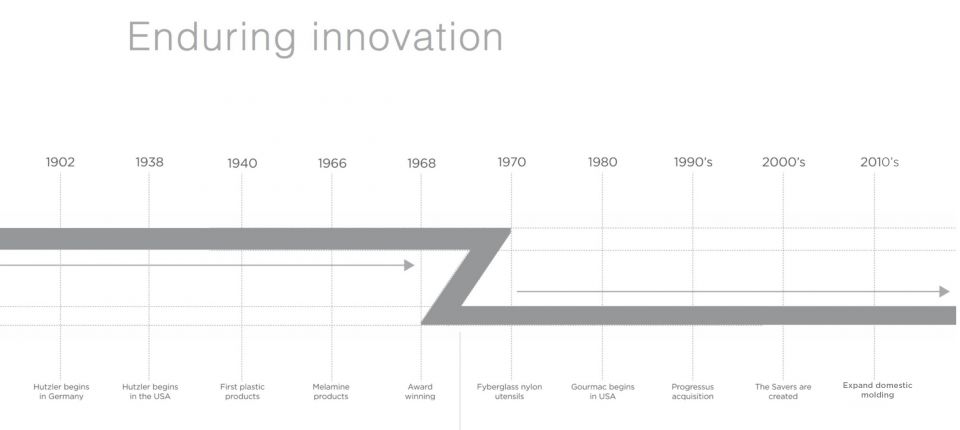 We at Hutzler Manufacturing are a family owned and operated business that has been producing innovative high-quality plastic housewares for over 80 years.
As they say, necessity is the mother of invention! Our founder, Lothar Hutzler, first gained business experience from his father's thriving cookware business in Germany. When the Nazis came to power, Lothar made the difficult decision to leave his home. He eventually moved to the United States with the plan of starting a business similar to what he had known growing up. The year was 1938 and Lothar quickly found that metal was in short supply, as it was all going toward the war effort. With no access to traditional raw materials, Lothar and his wife, Zina, became pioneers in manufacturing housewares from plastic. They began with plastic cookie cutters, plastic measuring spoons and plastic funnels. As crazy as it may sound today, this had never been done before. Their innovation sparked demand and we are proud to say that these products are still in our line today!
Since our earliest days, we have manufactured in the United States and we have continued to innovate. Hutzler holds hundreds of product patents throughout the world and we are continually thinking of new ways to make your time in the kitchen a bit easier and a lot of fun!
Have a favorite Hutzler product that you just started using? Have a favorite Hutzler product that is decades old? We would love to hear about it! Tag us on Facebook or Instagram. Your stories are such a vital part of what we do and we LOVE hearing them!
Want to know more? Here are some of our innovation highlights from the various decades:
IIn 1966 we began molding utensils and mixing bowls from Melamine, the highest quality plastic available. Until this time, melamine had never been used for this purpose. Hutzler's Danish Design 6-Pc. Melamine Serving Set was awarded the Housewares Design Award in 1968. These melamine utensils have also been exhibited in the Museum of Contemporary Crafts in New York City, the Philadelphia Museum of Art and a 2-year traveling exhibition under the Smithsonian Institute.
In the 1970's Hutzler made the engineering breakthrough that fiberglass can give additional strength that is lacking from traditional nylon. We used this knowledge to produce Fiberglass-Reinforced Nylon Utensils which are beloved in homes across the country and used daily by McDonalds, Burger King and Pizza Hut.
The 1980's brought the start of the gourmet industry. With it, we created a new division, Gourmac, to help serve the needs of the growing specialty retailers. We also created a line of baking gadgets which received great acclaim as they worked effortlessly and made baking so much easier: the Easy Action Cookie Press, the Fun Gun food decorator, and the Quick Whip® whipped cream and milk frother.
The 1990's brought enormous expansion, including in-house molding and production. We also came full circle back to our roots of metal housewares with the acquisition of the Progressus Company, a leading manufacturer & importer of quality wood and metal housewares.
With the turn of the millennium, Hutzler created an entirely new kitchenware category, the food keeper! Hutzler's Onion Saver®, Tomato Saver®, Lemon /Lime Saver® and others keep cut produce fresh longer. This line evolved into the line of Snack Attack To-Go containers for healthy snacking.
And, we have been expanding our assortment of Berry Keepers as well as kitchen organizers for your countertop and sink area.
Most recently, we have expanded our in-house molding capabilities. We are very proud to not only be designing, but to be manufacturing more and more kitchen wares right in our Connecticut factory!